Leakproof Pads Protection
Managing your monthly flow or protecting yourself from an unexpected sneeze or giggle, it doesn't matter, we've got you covered!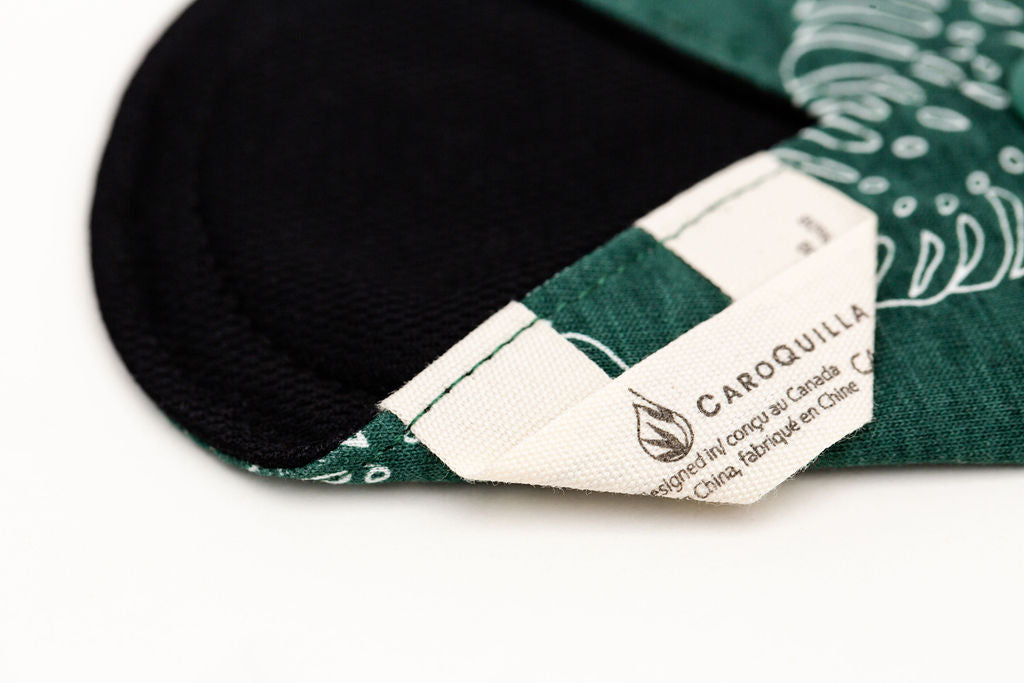 Reusable Leakproof Pads
L.B.L. Light bladder leaks
Did you know that, 1 in 3 of us experience Light Bladder Leakage (LBL). And it happens to all kinds of people, for all kinds of reasons. That's why we created a period reusable pad that can absorb sweat, pee. Our reusable pad can absorb anywhere between 1 and 10 teaspoons of any liquid. So whether it's blood, sweat or pee you can feel protected. Go and enjoy your fit class, hiking, enjoy life and feel protected with our reusable pads.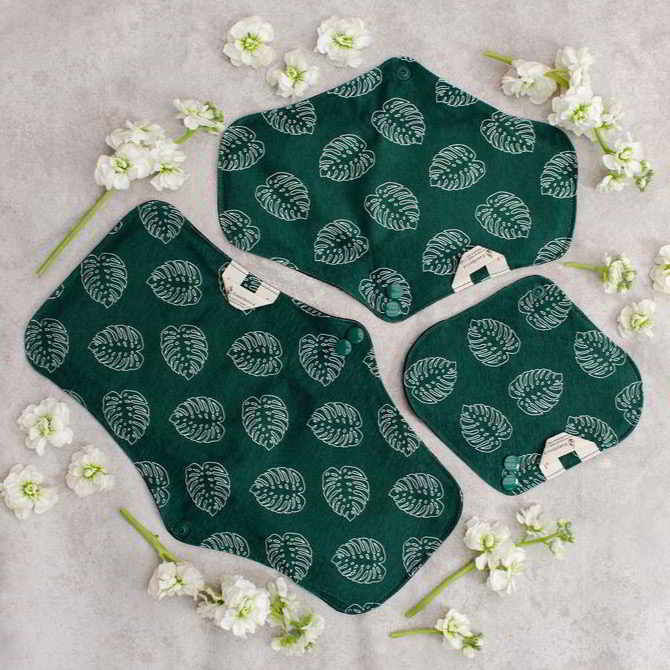 Choices Have Impact
For far too long People had no choice but to wear plastic, disposable menstruation products.
You deserve better than that. Your most precious area deserves a safe, effective and more sustainable option. One that works well, feels good, and does not negatively impact our environment.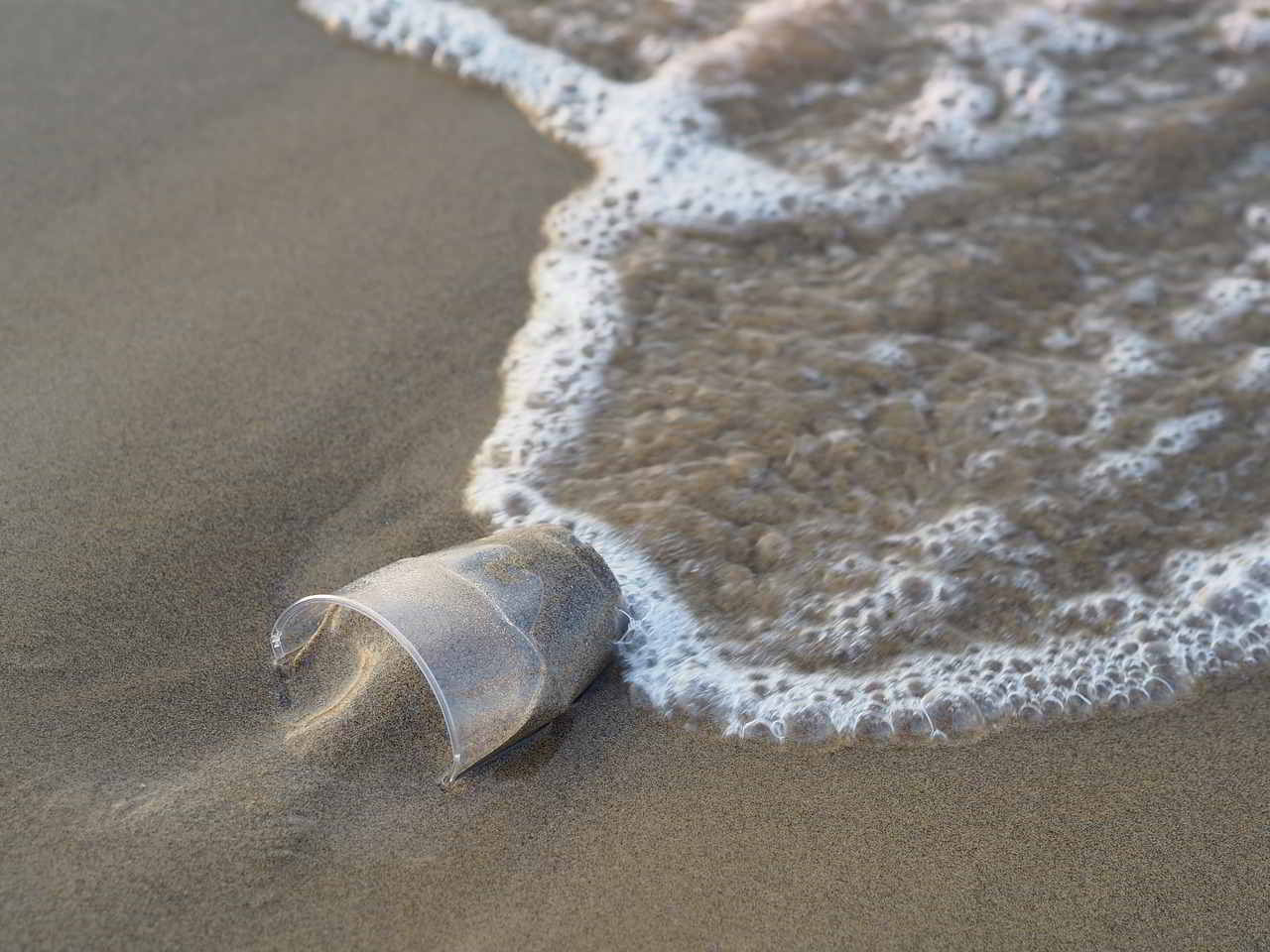 The Problem
Plastic Is Here To Stay
Approximately 19 billion single-use feminine hygiene products are thrown out each year, this is huge. And the vast majority will end up in the landfill. This number is just in the US! Imagine worldwide?
According to the Women's environmental Network, menstrual products are the fifth most common plastic waste product found in our oceans.
What's wporse, plastic and non-compostable materials in period products can take 500 to 800 years to decompose.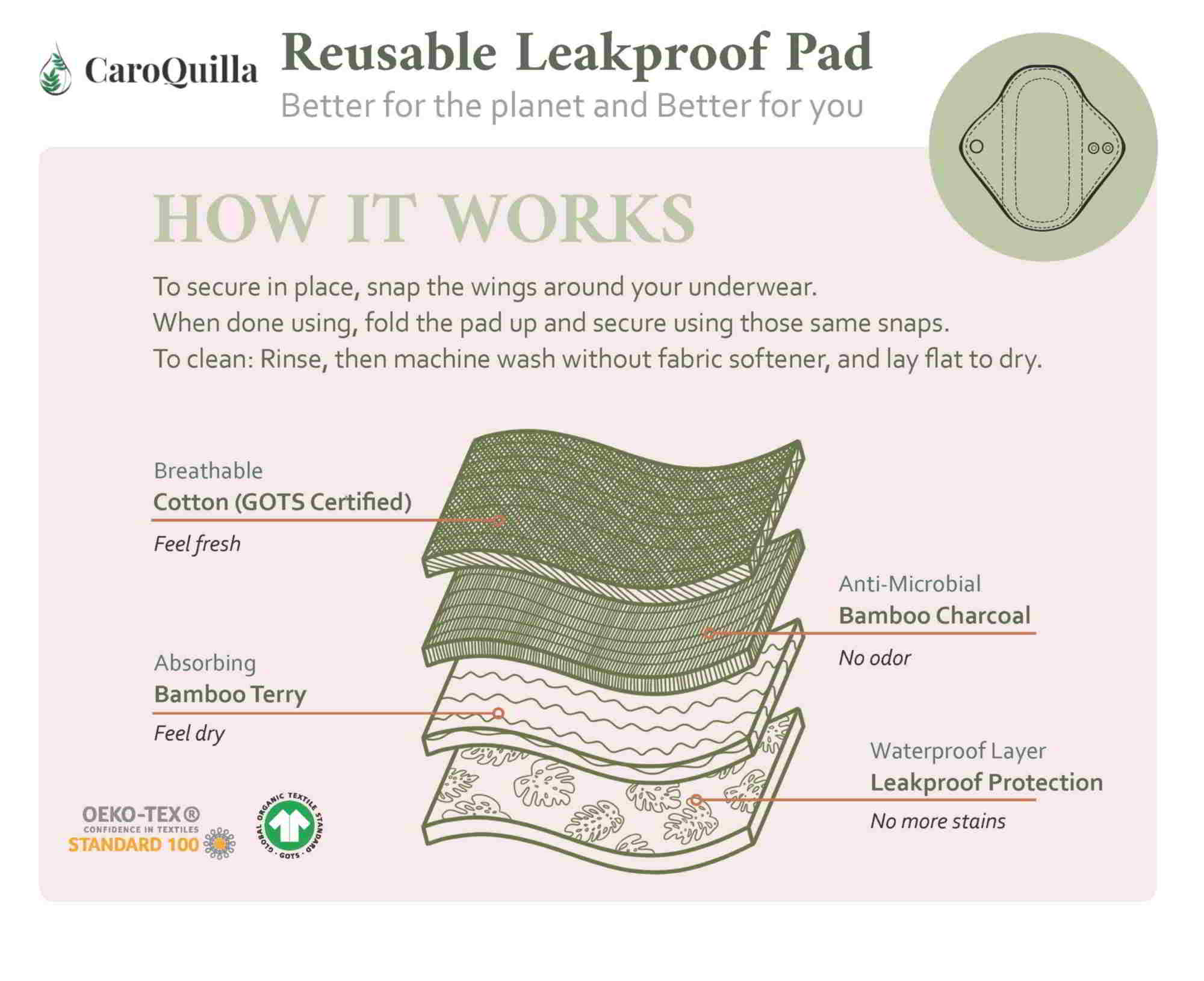 Protection AND Comfort
Say goodbye to disposable period product with confidence.
Absorb and protect. Feel dry and secure. AND save the planet at the same time!
FAQ
How often do I need to change my pad?
Our pads absorb more than comparable to disposable pads. How often you change your pad depends on you! We recommend changing your Reusable Pad when it starts feeling wet. The heavier your cycle, the more often you'll need to change the pad.
How much liquid do they hold?
CaroQuilla's Pad has different layers in the gusset that are super absorbent. Depending on the size you choose. Here's the absorbency breakdown of each of the pads.
Liner: Holds up 3 tsp of blood, which equals about 2-3 regular tampons or pads.
Daytime: Holds up 8 tsp of blood, which equals about 7-8 regular tampons or pads.
Overnight: holds up to 12 tsp of blood, which equals about 18-20 tampons or pads.
How do I wear your pads?
Just snap the wings around your underwear with the tag facing down and voila it will absorb your bleed. (The black material goes up touching your skin)
How do I wash my pads?
No worries! Very easy. 
After wear, rinse in cool water then wash in regular wash. ( or Hand wash in sink, until water becomes clear)
Lay them flat or hand to dry
DO NOT USE BLEACH OR SOFTENER.
Repeat!
Do they work for heavy periods?
Yes, we developed our pads to hold up to heavy flow. Just make sure you wear them overnight and change as needed.
What If I need to change my pad while I'm out?
We have water proof bags. You can stash your used pads or use to carry a couple spare ones in the carry bag.